Who We Are
Capstone Orthotics & Prosthetics was founded in March of 2020 in Friendswood, Texas. Capstone is a full-service orthotic and prosthetic company, with a focus on lower extremity solutions. We're committed to providing our patients with excellent care, superior customer service and state-of-the-art prosthetic and orthotic technology. Learn more about the services that we offer today!
Over 25 Years of Experience in Helping People Thrive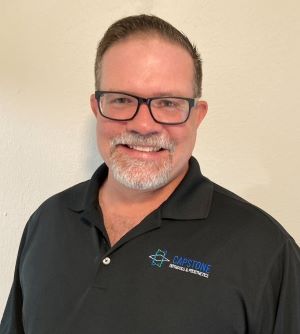 Jason M. Jennings CPO, LPO is the owner and president of Capstone Orthotics and Prosthetics. Jason has over 25 years of experience in his profession and is dedicated to improving the lives of those he serves.
After graduating from California State University at Dominguez Hills, he completed his orthotics residency at the University of Oklahoma and his prosthetics residency at the University of Michigan. He subsequently passed the American Board for Certification in Orthotics and Prosthetics certification exam to become a Certified Prosthetist and Orthotist. Jason has an extensive professional history of leading and managing O&P practices. He has been a residency director for many years and has mentored and developed many colleagues in the field. Jason has also continued to develop himself clinically through continuing education courses, manufacturer's training seminars and becoming Licensed through the Dynamic Bracing Solutions Clinical Network. Jason has dedicated his life to learning and practicing Advanced Triplanar Management and has subsequently established himself as a leader and expert in the field.
Amongst these achievements, Jason has prioritized giving back to the profession by serving on national committees such as the American Orthotic and Prosthetic Association's coding and reimbursement committee and traveling internationally for O&P mission trips to Romania and Haiti. Jason has authored 3 journal articles, given presentations on advanced alignment techniques and other specialties to numerous professional organizations and has spoken at international meetings in Leipzig, Germany; Beijing, China; and Vancouver, British Columbia. Jason also appeared as a guest expert on the "Team Luk3 Hope for Minds" podcast, which serves as a resource and support for brain injury survivors and their families. Capstone O&P is a culmination of Jason's life's work and an opportunity to give his patients better access to advanced technology and superior care.
Our Mission
To provide all patients with the highest standard of orthotic and prosthetic care within a professional and collaborative environment; inspiring trust and confidence with our patients and referral sources; achieving greatness for those we serve.
Why Capstone?
It's been our experience that good communication is necessary to provide you with a comfortable and successful journey towards getting an orthotic or prosthetic device. We work closely with each patient, their clinical care team of physicians and therapists as well as family members involved in their care. This ensures that each patient receives the highest quality products, services and customer experience. We know that it takes all of these people working together to meet each patient's needs and exceed their expectations. To learn more about us or to get started, click the button below.